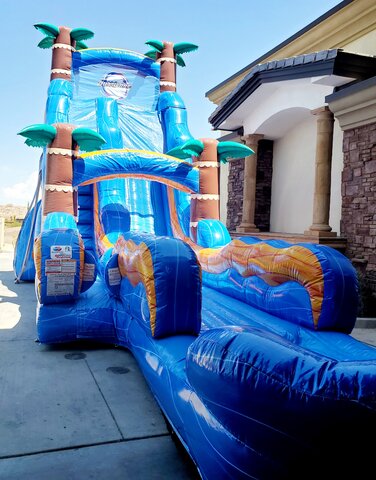 Just Arrived Giant Blue Hurricane Water Slide
Setup Area: 20x45
Outlets: 2
Attendants: 1





Available Booking Options

1-6 hrs
Party time!

$425.00

7-12 hrs
All Day Fun!

$510.00

Overnight
(24hr)
Keep the fun going!
backyards only no dirt setups

$680.00

Weekend Fun
Maximum Fun Best Value!
(Fri-Sun or sat-mon)
backyards only no dirt setups

$786.25




$425.00

starting price plus tax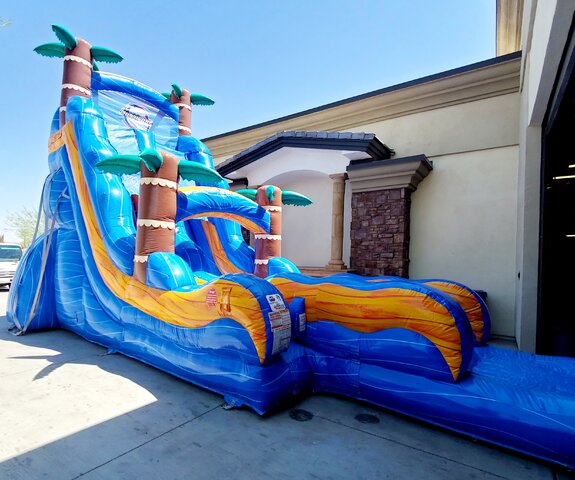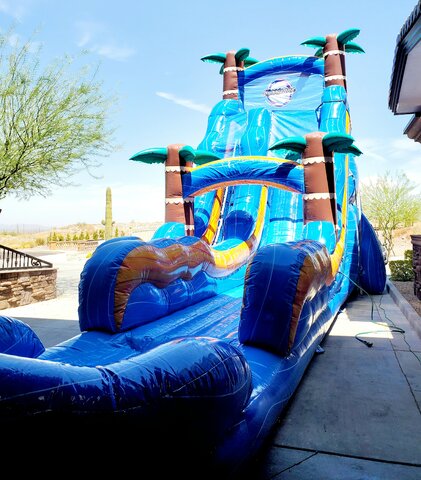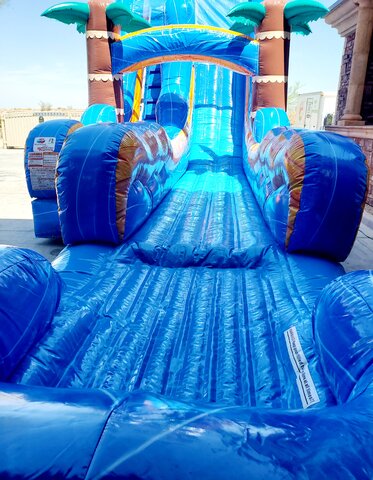 The Giant Blue Hurricane inflatable Water Slide is a thrilling and massive water slide designed for outdoor water play. It is an inflatable structure that is made of durable and high-quality materials to ensure safety and durability. The slide is designed to resemble a hurricane with its vibrant blue color, swirling patterns, and towering height.
The Giant Blue Hurricane Water Slide creates an exhilarating and fun-filled experience. At the top of the slide, there is a platform that serves as the starting point for the riders. The platform is surrounded by safety netting to provide a secure environment for the riders as they prepare to slide down.
The slide itself is long and steep, providing a fast and thrilling ride. The walls of the slide are lined with inflatable bumpers that keep riders safely within the slide as they descend. The walls are also designed with colorful graphics and patterns, adding to the visual appeal of the slide.
As riders slide down the Giant Blue Hurricane Water Slide, they will encounter a super tall platform followed by a steep drop, creating an exciting and dynamic experience. At the bottom of the slide, there is a splash pool filled with water, allowing riders to make a big splash as they slide into the pool.
Safety features such as reinforced stitching, heavy-duty anchor points, and safety netting are incorporated into the design to ensure the riders' safety.
The Giant Blue Hurricane inflatable Water Slide is a towering and thrilling water play structure that provides hours of fun and excitement for kids and adults alike. With its eye-catching design, exhilarating ride, it is sure to be the highlight of any outdoor event or party.
This slide will need a 42inch wide path from the street to the setup location for our delivery crew to bring it in on. In addition we will need 2 outlets on separate circuit breakers for power.