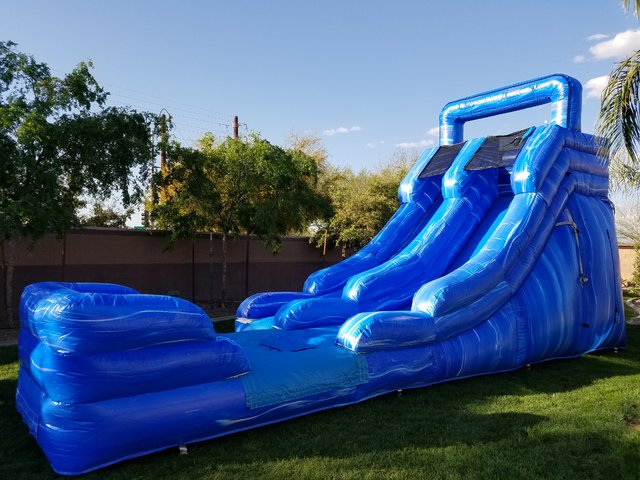 Blue Lagoon water slide
Setup Area: 15x32
Outlets: 1
Attendants: 1





Available Booking Options

1-6 hrs
Party time!

$269.00

7-12 hrs
All Day Fun!

$322.80

Overnight
(24hr)
Keep the fun going!
backyards only no dirt setups

$430.40

Weekend Fun
Maximum Fun Best Value!
(Fri-Sun or sat-mon)
backyards only no dirt setups

$497.65




$269.00

starting price plus tax



Keep you party cool with the Blue Lagoon Slide. This slide is recommended for kids 10 and under. It is equipped with a splash landing insted of a pool and the climbing side is made with a nonslip material. This slide is tons of fun and will provide hours of enjoyment for you and your guests.Now that summer is finally here, why not try the super awesome and cool Blue Lagoon Water Slide? This new and improved water slide is easy to climb, and better than most of its predecessors, making it one of the most desired water slide rentals in AZ.
The Blue Lagoon may not be the tallest but is one of the fastest water slides in our inventory, and it's a beautiful water slide to say the least. The splash landing is perfect for the younger kids and doesn't require a lot of water. Since it isn't a full-blown swimming pool, filling it up only takes a couple of minutes. So, you don't have to worry about anxious kids dealing with extended setup times.
What's more, is that the Blue Lagoon Water Slide is one of the safest inflatable waterslides around for kids under 10-years of age. It inflates within a few minutes and is perfect for younger kids who might be scared of a the taller slides. How ever the speed and fun level of this slide will keep the older kids entertained as well. So, there is nothing to worry about for parents as their kids will have hours of safe fun.
Since the Blue Lagoon is one of the hottest water slide rentals AZ has to offer you'll need to be sure and book in advance for best availabilty.